St. Andrew's provides a student-centered approach to academics where young people are encouraged to be curious, creative, and confident learners.

Beginnings matter in education, and the Lower School at St. Andrew's takes pride in the exceptional way our teachers bring learning to life. From gardens to barrier islands, baking bread to reader's theater, the youngest students at St. Andrew's are engaged daily in adventurous exploration.

The goal of Middle School is to open students' eyes and minds and allow them to find out what they are capable of achieving. A community of talented faculty play a key role in helping these young people develop a lifelong love of learning as they enter adolescence.

Serving as the pinnacle of a St. Andrew's education, the International Baccalaureate diploma program sets the stage for a rigorous, challenging, and creative experience both within and outside of the classroom. Our accomplished faculty provides a support system as young adults gain a wealth of academic experience, developing the confidence to surmount what lies ahead.
Technology at SAS
Essential to teaching and learning, technology plays a key role at St. Andrew's. As one of the first schools in the nation to unveil a 1:1 tech initiative, we are leading the way in the area of technology. The Lower and Middle School is equipped with iPads for all students while each Upper School student receives a MacBook Air.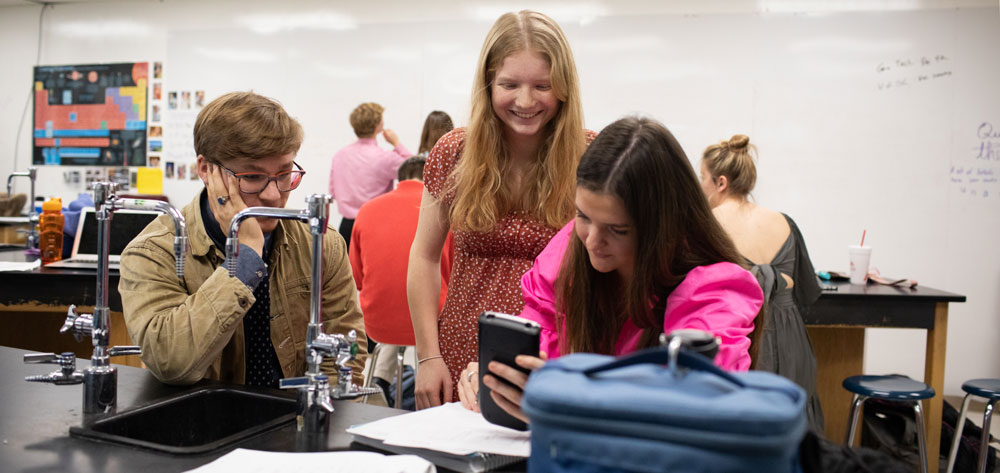 IB
The IB Diploma Programme (DP) was established to provide students with a balanced education, facilitate geographic and cultural mobility and to promote international understanding. The Diploma Program is a two-year course of study for students in their junior and senior year that prepares them for effective participation in a rapidly evolving and increasingly global society. Students will:
Develop physically, intellectually, emotionally, and ethically
Acquire breadth and depth of knowledge and understanding, studying courses from 6 subject groups (Language and Literature, Language Acquisition, Individuals and Societies, Sciences, Mathematics, and the Arts)
Develop the skills and a positive attitude toward learning that will prepare them for higher education
Study at least two languages and increase understanding of cultures, including their own
Make connections across traditional academic disciplines and explore the nature of knowledge through the programme's unique Theory of Knowledge course (TOK)
Undertake in-depth research into an area of interest through the lens of one or more academic disciplines in the extended essay
Enhance their personal and interpersonal development through creativity, activity, and service (CAS)
WHY IB?
by Ryan Martin, Assistant Head of School
As college admissions becomes progressively more competitive, parents are becoming increasingly more educated consumers of their children's school programs and curricula in hopes of giving their child the added advantages now that will pay off in the long run. As a school that made the decision to transition from an Advanced Placement (AP) program to International Baccalaureate (IB), St. Andrew's School is often asked how these two programs compare and why we have invested in the latter. We were authorized to begin delivering the IB program in the spring of 2008, and it has become a hallmark program differentiating us from other private schools in the region. The following explains our IB program in more detail, and why we believe it to be a value proposition for our families.
WHAT EXACTLY IS IB?
You might receive different answers to this question depending who you ask in our school community. If you ask our students, they will tell you it is a challenging but very rewarding and meaningful curriculum, more empowering than traditional methods – that they learn by doing. Our teachers would probably explain that it is an approach that involves much more student ownership of learning and emphasizes critical thinking and communication of knowledge more than just memorization. And our parents report that the program gives their child a competitive edge in both college admissions and preparation that sets their child apart from the local applicant pool.
IB is all of these and more – it is a program than emphasizes depth over breadth, with the philosophy that a challenging curriculum means understanding of the material in authentic applications, not just memorization of facts and figures. The IB program is comprehensive in providing students with exposure to advanced content in the various subject areas while also emphasizing intellectual skills and dispositions that transfer across subject areas. In turn, this leads them to success in whatever field of study they decide to pursue as undergraduates or in their careers.
COLLEGE PREPARATION
There have been numerous studies published that look at the success of IB students versus traditional college preparation programs. Acceptance rates of IB students at most universities are higher than that for non-IB or traditional applicants, suggesting that IB students are respected and desirable to college admissions offices. Graduation rates at four-year universities of IB diploma students surpass those of the national average substantially, confirming that IB gives students the attitudes and skills necessary to be successful in college and beyond. Our own data supports these findings.
This distinction is important in an era when grade inflation remains an ever-present concern and as savvy parents and students do everything they can to bolster resumes and applications to get in university doors. IB is not just about an impressive transcript, and colleges know that. They know that IB prepares students through rigor and content while training them to engage in meaningful problem-solving. Our students ask relevant questions and answer those questions creatively – skills not easily taught within the demands of college courses. They also know that students who complete IB programs are passionate pursuers of the "why?" questions, which is what generates new ideas and leads to deeper understanding.
21st CENTURY RELEVANCE
While St. Andrew's is a college preparatory school and we make every effort to complete that task with excellence, we are cognizant that we are preparing our students for their futures beyond university as well. We believe that the IB program provides one of the most relevant curricula to meet the demands, desires, and needs of the 21st century learner. More and more, what determines success is not how much information or knowledge a person has, but how well they use and apply understanding in new and creative fashions. The ability to learn how to learn is of significance during a time when technology is allowing information and knowledge to expand at exponential rates. It is a critical skill for any professional entering the workforce.
In the IB diploma program, students take six IB courses over their 11th and 12th grade years, one in each of the major academic disciplines. Students also complete an extensive research project, the Extended Essay, in which they select a subject and topic of their choosing and work with a faculty mentor to produce a 12-16 page piece of original research. IB diploma students also enroll in a course titled Theory of Knowledge. The class asks them to think about themselves and their place as learners in a global society, making interdisciplinary ties between all the subject areas while gaining a better understanding of how each discipline works. Lastly, IB diploma students must complete Creativity, Action, and Service hours that require students to not just be active learners in the classroom but to do so in their communities as well. The combination of two-year courses and the three core components of the IB diploma program provide a far more comprehensive approach to learning than an individual class or course, producing well-rounded, reflective, knowledgeable, and caring students.
IN CLOSING
Even in this brief summation, it can be a fair amount to process if IB is new to you. We heartily invite you to schedule a visit to come see us in action. Whether spending time observing a lesson or walking campus with our community members – we look forward to continuing the conversation. It's a great day to be a Lion.

College Counseling
At the core of a college-preparatory experience is the college planning process. While the curriculum at St. Andrew's is the highest preparation available in the coastal empire region of Georgia, a complete college application is nuanced beyond academic rigor. It includes extra-curricular participation, excellent written expression, strong interviewing and public-speaking skills, and demonstrated development of the student's talents and interests.
College planning begins in ninth grade as you develop study habits that will prepare you to be successful in high school and eventually admission to college. As you begin your junior and senior years, you should endeavor to form your personal objectives and educational plans and, in consideration of these, to assess both your potential and performance. Having this clearer understanding of yourself and your goals, you will be better able to select those colleges which can provide an appropriately challenging and enjoyable environment for you.