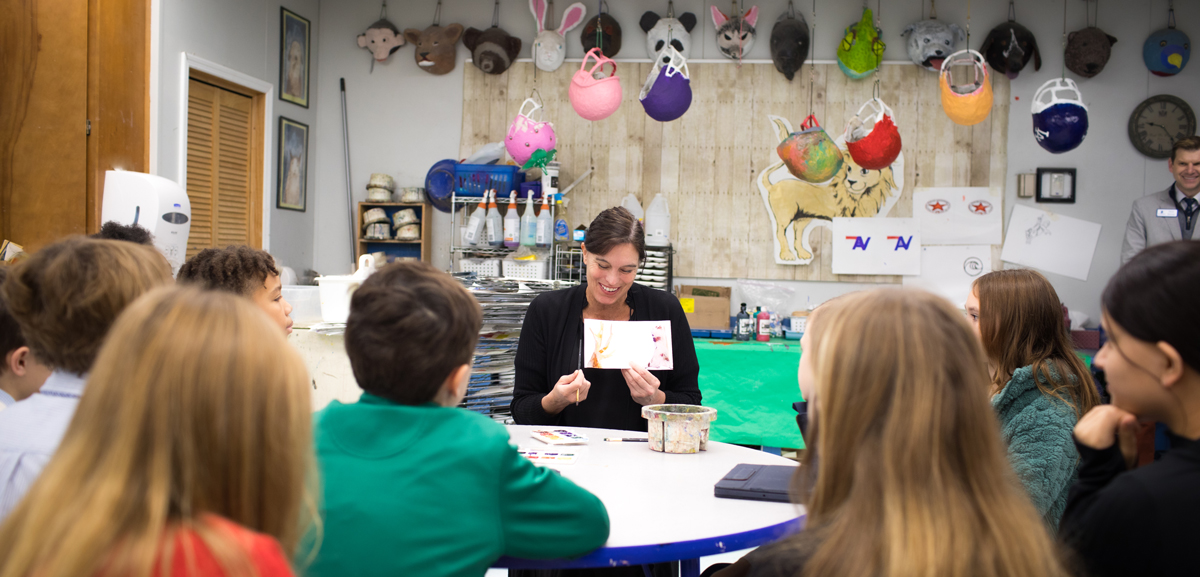 Middle School
| Grade 5 – Grade 8
The goal of Middle School is to open students' eyes and minds and allow them to find out what they are capable of achieving. A community of talented faculty play a key role in helping these young people develop a lifelong love of learning as they enter adolescence.

Excelling In & Out of the Classroom
Early adolescence is an exciting time for young people to discover their interests and abilities. In the St. Andrew's Middle School, there are numerous opportunities for students to excel as scholars, athletes, and artists.
A variety of academic offerings
Physical Education classes (4 times/week) and organized athletics
Visual Arts (2 times/week)
Performing Arts (2 times/week)
Design & Technology (2 times/week)
Foreign Language (4 times/week)
Seminars (2 times/week)

A Sense of Belonging

The Middle School years are marked by opportunities and challenges. Our students find an engaging atmosphere, rich with possibilities for academic and social growth, personal challenge and creative expression. This process begins with a physically and emotionally safe environment where teachers and students build lasting relationships through a structured advisory program.

Engaging Ways of Teaching & Learning

Our gifted and experienced teachers bring learning to life through a variety of opportunities.
Field trips

Project-based learning

Cross-curricular projects

Student showcases 2 times each year


Hands-on, inquiry-based approach
CONNECTIONS BETWEEN THE CLASSROOM AND COMMUNITY
St. Andrew's Middle School students are finding ways to help others. This semester 7th and 8th graders have spent time at PACK Savannah, packing food bags, making cards, and organizing shelves. The lasting benefits of community service can be far-reaching from building compassion to becoming a more responsible citizen. Packing and distributing over 10,000 bags of weekend food to local children each month, PACK Savannah helps meet the basic needs of children in our local community.
Get to know St. Andrew's
| Lower School
Our new Spanish teacher, Señor Hobbs, is working to help create a strong community in the Middle School with a Spanish twist. His students each selected a Middle School teacher to feature with a portrait and five positive traits written in Spanish. As a midweek surprise, the creations made their way to each teacher's on-campus mail box!
After volunteering with her Middle School advisory at Second Harvest of Coastal Georgia, SAS teacher Stacey Young shared this quote:
"I am SO PROUD of our amazing students for the hustle, teamwork, gratitude, and good manners that they exhibited during our time volunteering at Second Harvest. I was truly blown away by the way they interacted with our volunteer coordinator and each other, the way they were able to express a strong sense of empathy for those who face hunger and food insecurity, and their incredible work ethic. We left sweaty, dirty, tired, and happy." Go Lions!